Moore's Law in full effect, things have changed out of sight since my last post. Everything is different. I'm just not feeling it as far as writing long newsletters lately. Could be the heat, could be that I'm too busy doing things, could be the PS4. Anyway I have a little tour of Tasmania with my good friends Van Walker and Lucie Thorne coming up. Check out all the dates there on the right. As well as that I am doing some Zoo shows with Mark Seymour in February, and I'm supporting Built To Spill as well. Yeah alright you heard. Built To Spill. It's gonna be amazing.
Anyway yes – check the Tasmania dates there on the right. I have a bunch with Van and Liz, some by myself and even one with my old buddy Mike Noga which I really can't wait for.
Here's some things that have been of interest lately: Awards shows, public grief, the man who put his wife's head in a block of concrete in Germany (Austria actually), Zero Latency, the new Drones song, Fallout 4.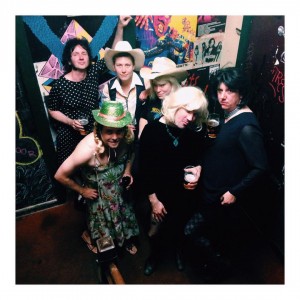 There's a photo of me in drag with my fellow Dragons at the Tote last year (nostalgia), don't say I never give you nothing/anything.
Be excellent to each other
XX
Salty