GREETINGS.
Watching the cricket, at the pub. The Victoria Hotel, Brunswick, to be exact. I play approximately one game of cricket a year for their cricket team, and I fancy myself a bit of a goer. Australia could be in trouble here, India have settled in and we've only taken one wicket. They'll bat all day. I'm sat here loading up Hownowmer USBs for our upcoming shows. Played last night at Woody's on Smith St in Collingwood, and we're on again tonight (Sat 4th April) at The Reverence in Footscray. Tomorrow here at the Vic. Tuesday at the Old Bar. We're going to Japan in April. True story. Oooo cheeky reverse sweep there from Rahul. Very cheeky indeed. Except he didn't hit it. Came off his head.
My new album is progressing apace, and should be out in the winter time.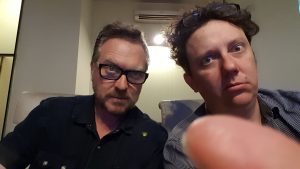 I'mdoing a bunch of shows in March and April, including a visit to Adelaide and Perth, where I haven't played solo for some time. What is Clarke talking about? He keeps saying 45. 45 what?
Anyway here are the shows:
BEN SALTER'S MARCH & APRIL SHOWS 2017
THU 9th MARCH EDINGNBRUGH CASTLE, BRUNSWICK w/Tom Redwood who's got a new album out
THU 16th MARCH EDINGBRUGHH CASTLE, BRUNSWICK w/Jack Spider who's recently moved down from Brisbane
FRI 17th MARCH BEN SALTER 'N HIS BAND AT B.EAST ON LYGON ST for Brunswick Festival
THU 23rd MARCH – ST JOHN CRAFT BEER LAUNCESTON w/Emma Anglesey $10+bf/$15 TIX HERE
FRI 24th MARCH – HOUSE SHOW HOBART w/Sime Nugent get in touch for details
THU 6th APRIL CROWN + ANCHOR ADELAIDE w/Cowboys of Love + Sasha Marsh $10+bf/$15 TIX HERE
SAT 8th APRIL- THE ODD FELLOW FREMANTLE w/Peter Bibby + Hayley Beth $10+bf/$15 –TIX HERE
WED 19th APRIL – THE JUNKYARD, MAITLAND – Two Sets – Frei
THU 20th APRIL – THE GOLDEN BARLEY, SYDNEY – Two Sets – Free
SAT 22nd APRIL – THE FRONT GALLERY, CANBERRA – Two Sets $16+bf/$20 TIX HERE
SUN 23rd APRIL – DICEY'S, WOLLONGONG w/Rhys Scoular then sleep.. on the plane to JAPAN FOR HOWNOWMER'S JAPANESE TOUR EEEEE
There's a lot more to tell but you should sign up for my mailing list if you want the full lowdown.
Here are some pictures.