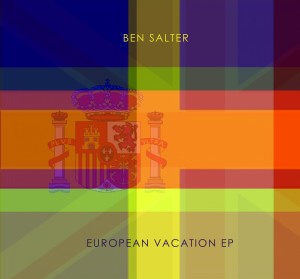 Homegrown singer/songwriter Ben Salter (The Gin Club, Giants Of Science, The Wilson Pickers) returns to the local music scene with a freshly inked deal with ABC Music. The new 'European Vacation' EP is set to be released on July 12, 2013. Salter will embark on a slew of national tour dates, kicking off in Toowoomba and continuing across six States and Territories through July.
TICKETS ON SALE: MONDAY 10TH JUNE
Friday 12 July
Spotted Cow
Toowoomba QLD
Thursday 18 July
Café Le Monde
Noosa QLD
Friday 19 July
Black Bear Lodge
Brisbane QLD
Saturday 20 July
The Metro
Adelaide SA
Sunday 21 July
Mojo's Bar
Perth WA
Thursday 25 July
Worker's Club
Melbourne VIC
Friday 26 July
Petersham Bowls Club
Sydney NSW
Saturday 27 July
Front Gallery
Canberra ACT
Facebook event here: https://www.facebook.com/events/490539177686546/
The first single from the EP is the atmospheric, harmony drenched pop weirdness of "Semi-Pro Gamer".
Stream that here:

The 'European Vacation' EP was born from a project that saw Salter traverse Europe for five months, collaborating with as many songwriters and artists as possible.
As sonically and thematically varied as its inception suggests; the 'European Vacation' EP flits between genres as steadily as Salter moved from country to country on his travels.
So the theme of the EP is the journey itself – roaming unexplored territory looking for inspiration and finding it in some unexpected places. With tracks embellished and polished at Nowhere Audio, a small studio in Brisbane's West End, Salter cements himself as one of the country's most gifted singer/songwriters.