Cor Blimey,
How are youse.
A couple of shows coming up the next couple of weekends in Melbourne town that are both sort of special so I'd urge you to attend.
Firstly, this Sunday the 29th of May I am headlining a show at Bella Union in Carlton. It's a lovely room located in the Trades Hall Union building. Solidarity sisters and brothers. It's an afternoon, all ages show and all proceeds are going to go to help a young lady named Grace Robinson attend Portland FAME school in the US. Well it's not actually FAME school but it's something similar. She's going to be opening the bill, at 2.30pm or so.. I was lucky enough to do a songwriting mentoring thing for Grace around 12 months back which is why I'm involved with this gig. She's really something else so I hope you can come nice and early. Also on the bill is the formidable Brooke Russell. Anyway as I said it's all ages and at a reasonable hour so bring the kids! But the bar will be open anyway.
The following weekend I am playing another benefit of sorts, this time with my full band, and this time for Muscular Dystrophy. Here's the full spiel: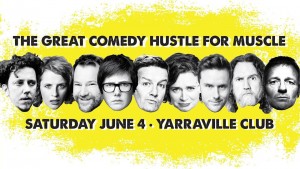 LOOK AT THIS FOR A BLOODY UNBELIEVABLE NIGHT!! Lawrence Mooney, Judith Lucy, Lehmo, Hannah Gadsby, Bob Franklin, Anne Edmonds, Dave Thornton and special guest Ben Salter 'n his band! Dizzy Heights is putting on the fundraiser of all fundraisers! The first annual Hustle for Muscle will showcase some of Australia's most popular and talented stand up comedians, followed by some killer live music. All profits from the Hustle for Muscle will be donated directly to FSHD Global Research Foundation, an Australian based not-for-profit research foundation dedicated to finding a treatment and cure for Facioscapulohumeral Dystrophy (FSHD). FSHD is one of the most common forms of muscular dystrophy, a genetic muscle wasting condition aecting 1 in 7,500 people, both adults and children. For more info about what FSHD is and the devastating eects it can have, please visit the FSHD Global website. The FSHD Global Research Foundation allocates 100% of the tax deductible donations they receive to current and future medical research grants. Funding that will improve the quality of life for people and families suering from this cruel and misunderstood disease… However, it's not all grey skies! Research so far has pinpointed the nasty poison that causes the damage, which is an amazing accomplishment and now research is dedicated to what the bloody hell to do with it!
The website for tickets is HERE.. they start at $50 which I think is bloody reasonable for that amazing array of talent and me.
Other things: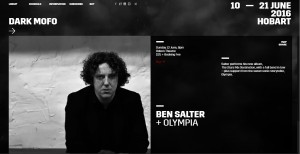 I'm playing at Dark Mofo in a few weeks, down in Tasmania. I'm going to be joined by the amazing Olympia. You can get tickets for all that HERE.
Okay I gotta run.