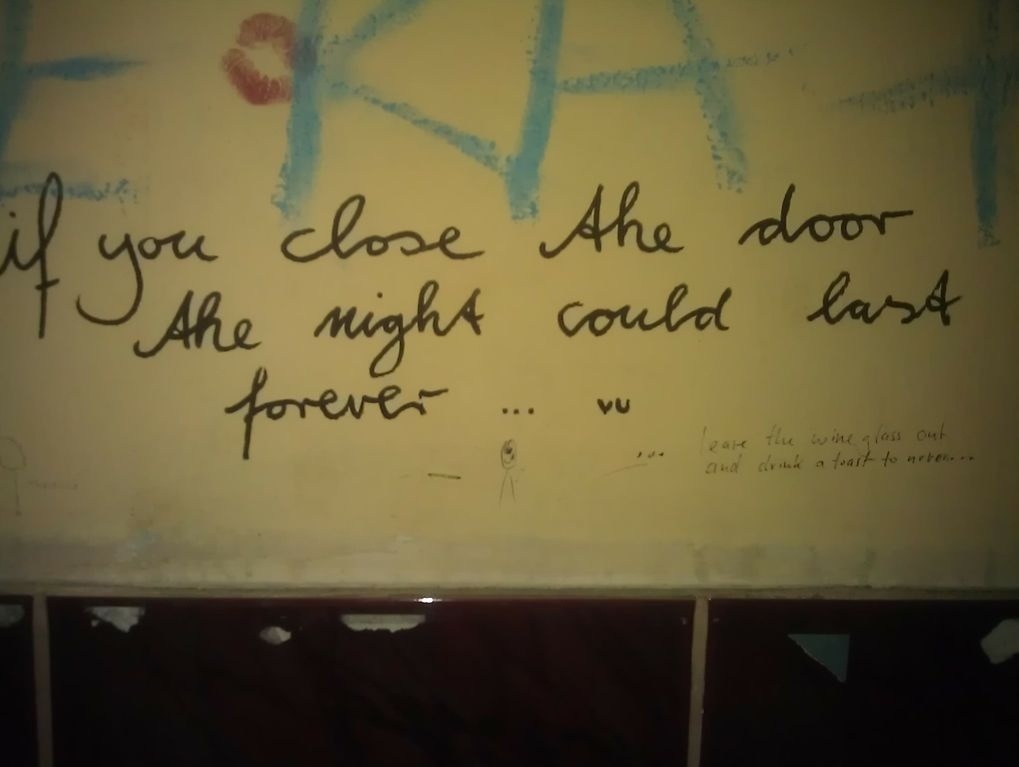 Hello again, this time from Berlin, where I have now been for about two weeks. LAST WEEK I SAW JONATHAN RICHMAN.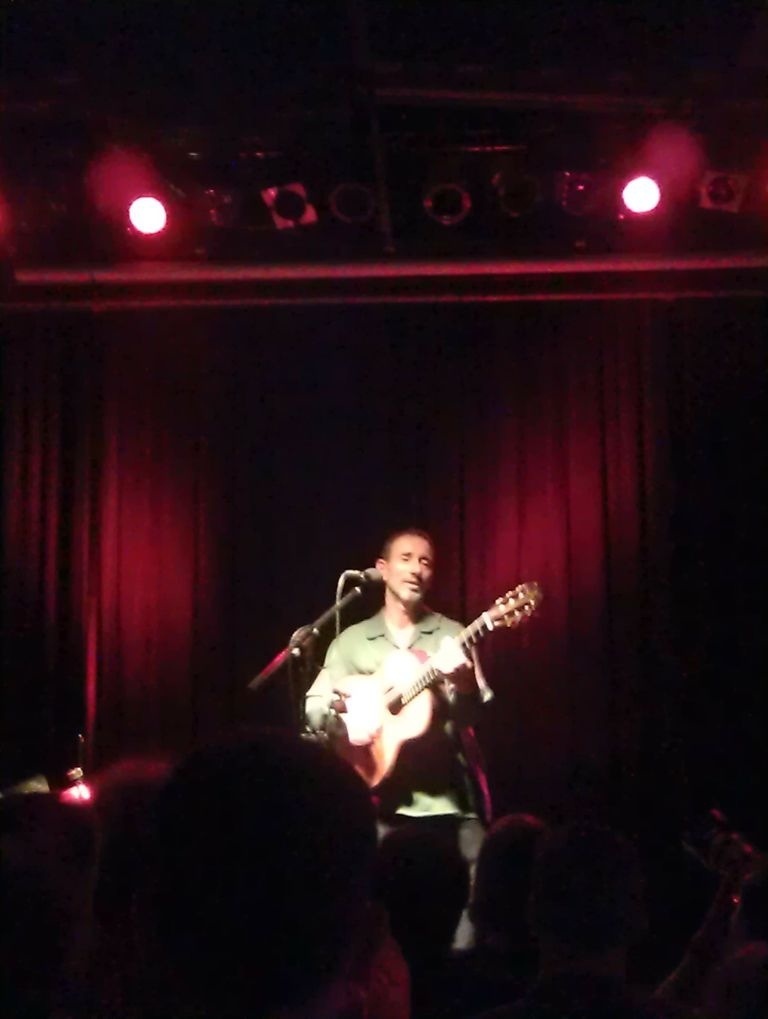 JOHNATHAN RICHMAN
Regular readers of this column will know just how exciting this was. So I won't say anymore. Except I TOUCHED HIM and IT WAS AMAZING.
Berlin Berlin.. What do you say about Berlin.. Everyone has an opinion. The best advice came from my new friend Tom, who is a physicist. "Don't try and come up with some generalized theory of Berlin, about why it is what it is or how it came to be this way. You will be wrong."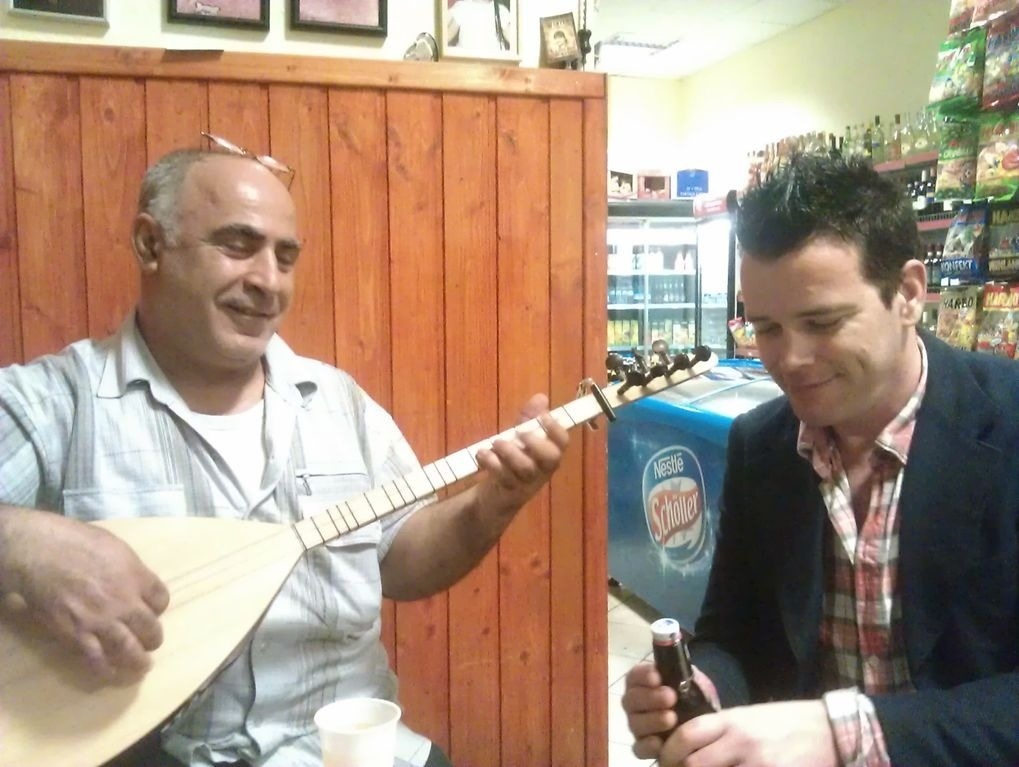 Turkish bouzouki player and Justin.
So yeah.. Maybe come and visit. You won't be disappointed. It's amazing. It's also rather hot.. 34 or something today. Also, there are HEAPS of dogs. As a result, the cats keep a pretty low profile. Hardly seen any! Heaps of dogs in Paris, also. It's great, they're just seamlessly incorporated into everyday life, on the u Bahn and the s Bahn and at restaurants and pubs. Dogs dogs dogs. All shapes and sizes. Just below where I am staying in Freidrichshain there is even a shop that just sells bones for dogs! It's called "Bones for Dogs". Controversial.
There certainly are a lot of Australian musicians here, and I've been collaborating like crazy with as many as I can.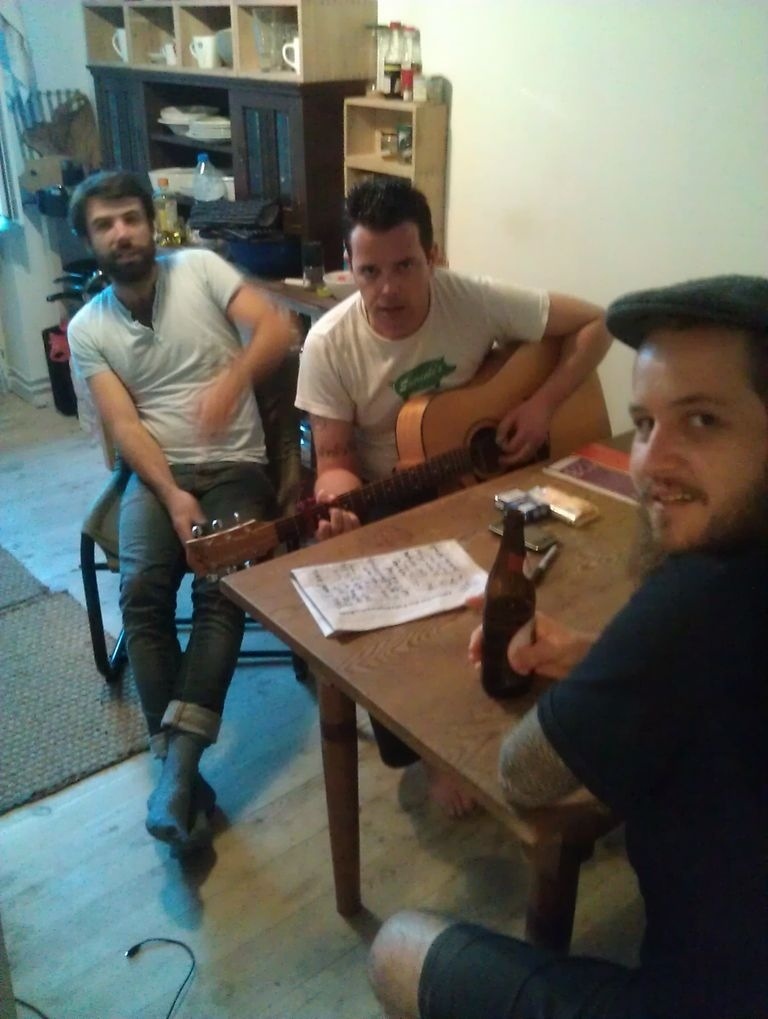 Richard Cuthbert, Justin Cusack and Joseph Muller at the Green Dress Social Club
Sydney's Richard Cuthbert, of Cuthbert and the Night Walkers and Green Mohair Jacket, who I played with in Sydney just before we both left.. Brisbane's own Paul Donoghue aka Big Strong Brute. Josef Muller of Laneous & The Family Yah, The Well Alrights and many others. Justin Cusack of Black Pony Express. (I'm currently staying with Justin. We've established a social club.) Sam Wareing aka Wasp Summer who has also sheltered and gainfully employed me. Tom "The Physicist" Oates. And of course Melbourne rabble rousers Bitter Sweet Kicks.. They're on your throughout Europe. They've had a hell of a time.. They're all pretty young, it's their first ever international tour, and they've had some MAJOR crises.. they have no driver or anything, doing it all themselves.. But they're doing an amazing job. When I saw them at White Trash they absolutely tore the place up, it made me so proud to be Australian! (Much more proud than the stupid Olympics. There wasn't much to feel proud about there, and I'm not talking about the medal count.. The way the athletes carry on is appalling in my opinion. I dunno, I know it must be tough and everything but surely the fact that there can be only one winner must be foremost in their minds? You wouldn't think so. Anyway.)
But yeah, we booked a studio for four hours, Bitter Sweet Kicks and I, and recorded a few songs which I think are pretty cool. One is called "Better Drunk Than Homesick", which is something a bar tender said to them in France or somewhere. They're playing at Meredith this year and I think I'm gonna have to go, the line up is incredible. Don't know how. I'll figure it out. Spiritualized! Turbonegro! Hot Snakes! Primal Scream!
I feel kind of bad that I haven't really engaged with any Berlin or German artists yet but I am working on rectifying that. I'm off to Hamburg for few days on Tuesday, then Copenhagen, then back to Berlin for another week and another show, and a huuuge mega collaboration thing I am planning.. Kind of like a Young Liberals recording session but in Berlin.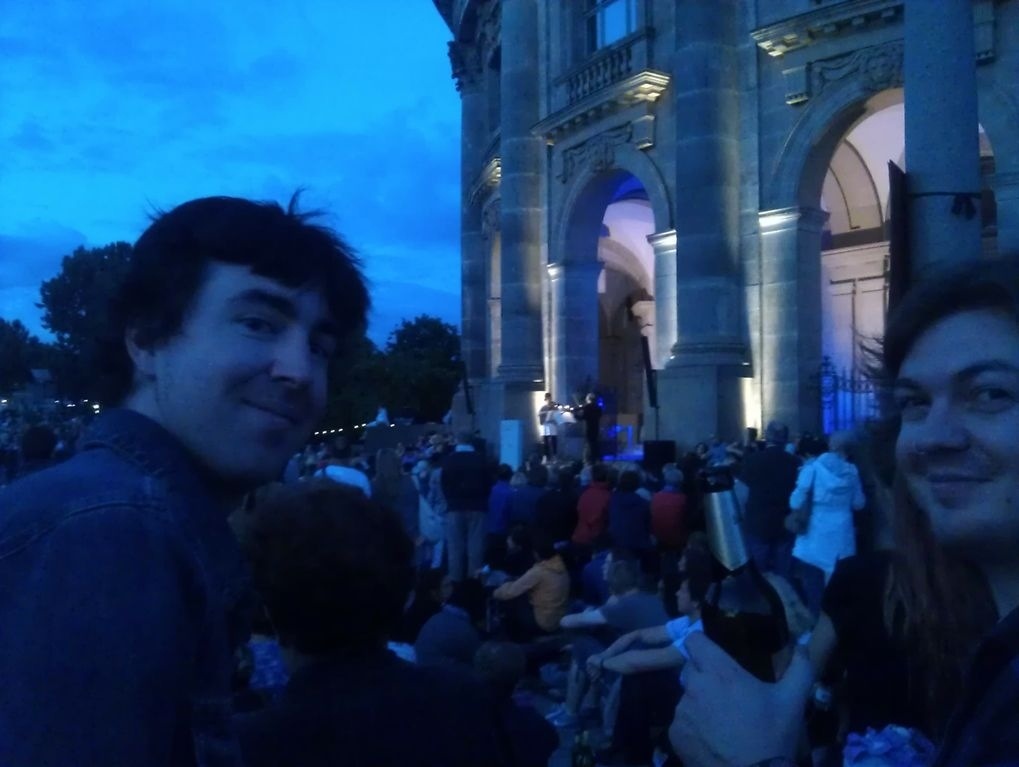 Charlie and Johnny from Bitter Sweet Kicks enjoying a bit of classical Don Don at the Bode Museum, Berlin.
Prior to Berlin I was in Paris for a week, which was really lovely. Did a couple of shows, wrote a few songs, went and saw a cello recital, went to a bunch of galleries and stuff.. It was fantastic. What can I say? I am extremely lucky! I pray every day to the Flying Spaghetti Monster. Thanks so much to Marion and all her pals, and to Boris and La Feline and La Pergola.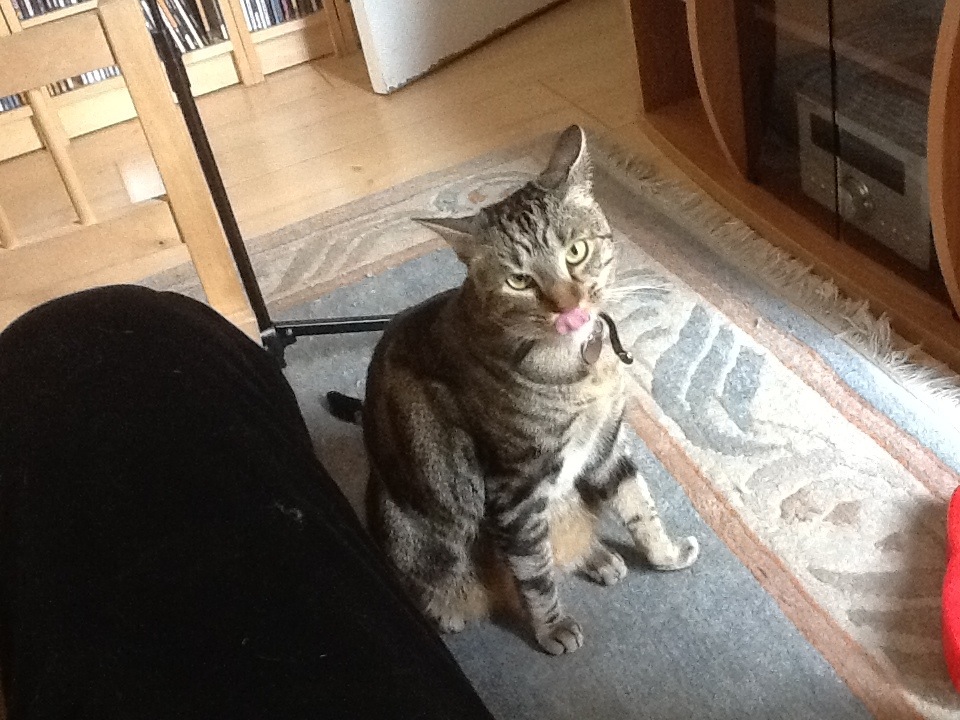 Malo the giant cat, St. Ambroise, Paris.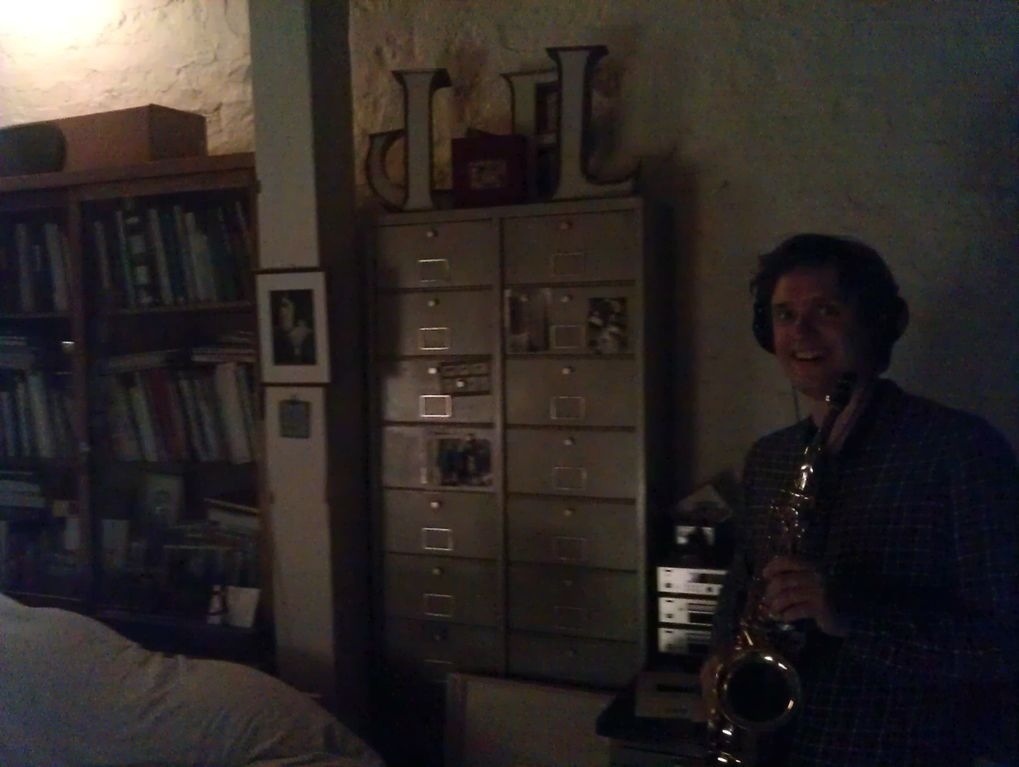 New friend Pierre the philosopher/alto sax player, Paris.
Prior to THAT, I was in Madrid. I am going back to Spain in September but I had to make a special visit to do a special collaboration.. More on that later. It went very well however. I didn't have much of a chance to do any touristy activity, but I saw some flamenco, which was amazing.. Met up with Luis who is organizing some shows for me next month. It was a whirlwind four day visit.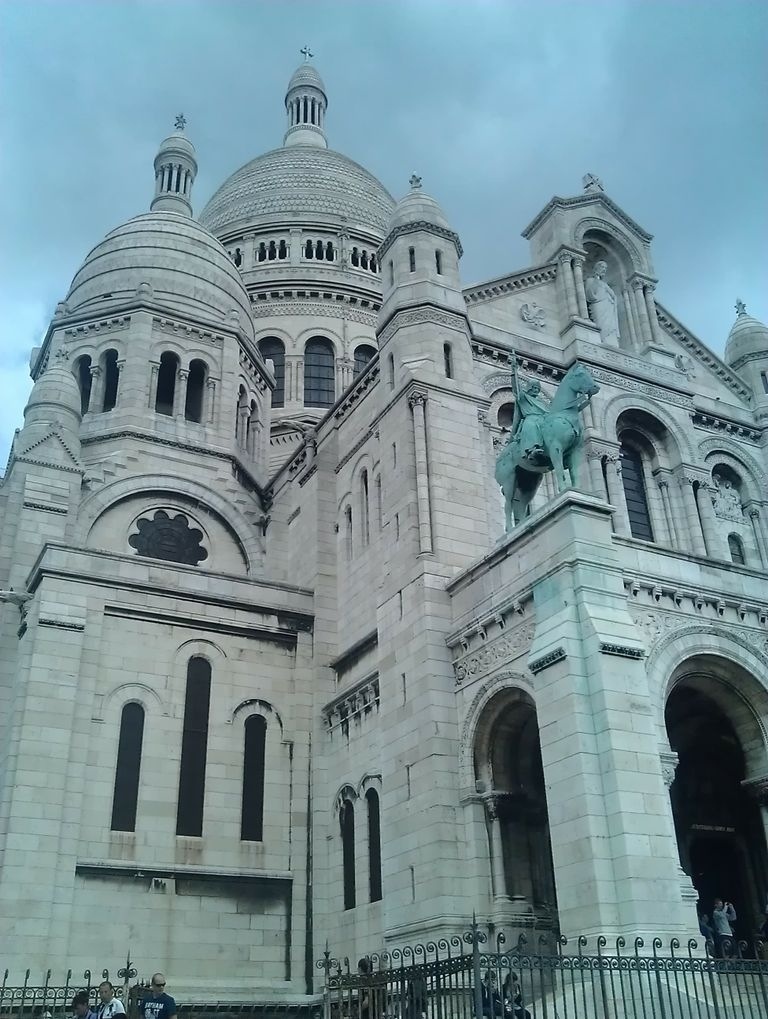 Scare Couer Cathedral, Montmarte, Paris
Anyway that's about it I think, for now. So excited about winning the Best Album award for The Cat.. It's a huge honour. Also very excited to see HITS on the cover of the Courier Mail. Tomorrow I have to go and negotiate getting my shipment of CDs from German post. Apparently that's quite a drama.
My Dad came here when it was still divided, with the wall and everything, and snuck into East Berlin, cause he was in the army and could kind of get away with it. Drove around. That's pretty cool.
Anyway it's getting toward bedtime.. Even though it's past midnight it's still around 28 degrees here at the Green Dress Social Club.. I might try and demo a song before bed.. We'll see.
Hope you are well and please stay in touch.
X x
Ben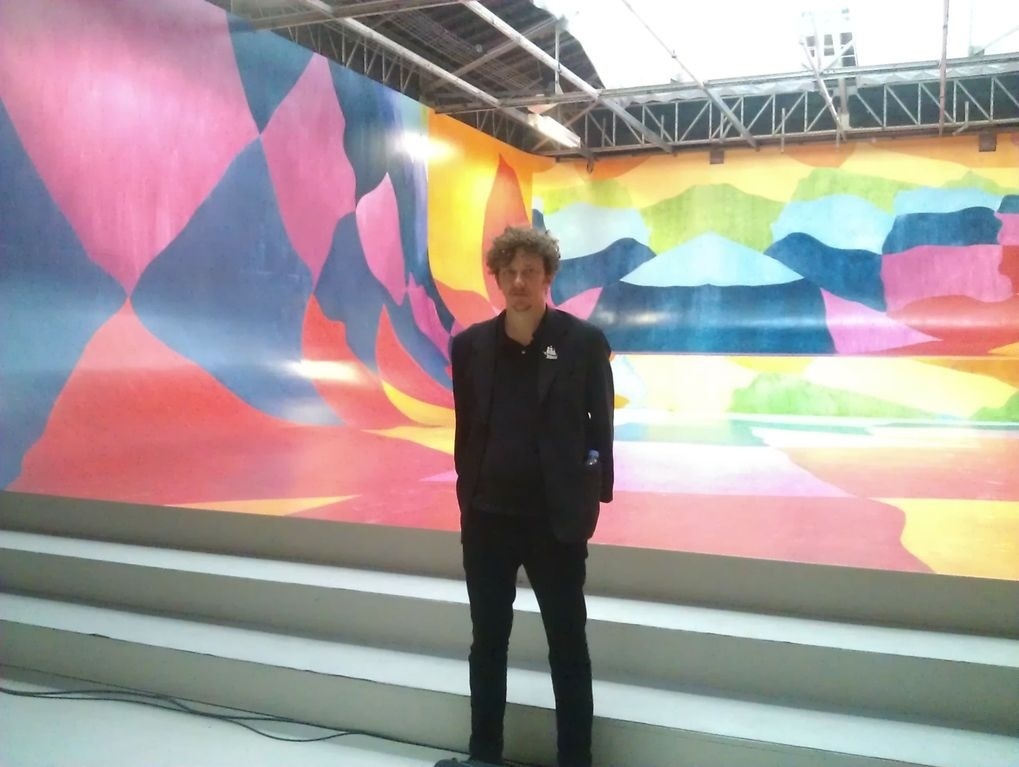 The Paris-Tokyo Museum, Paris